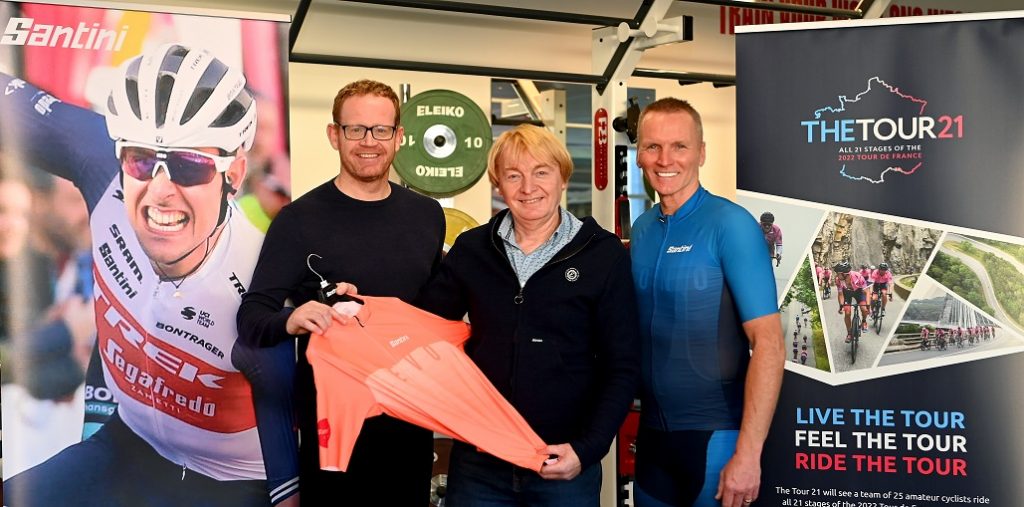 National blood cancer charity Cure Leukaemia are delighted to announce that Santini will become the Official Kit Supplier for "The Tour 21" this year. The three-year partnership means that Cure Leukaemia's major cycling event, The Tour 21, which will see amateur cyclists take on all 21 stages of the Tour de France route one week ahead of the professional event, will be kitted out in the latest high-tech cycling wear for the gruelling challenge.
Santini recently became an Official Partner of the Tour de France, beginning in 2022 for five years, and as part of Cure Leukaemia's UK partnership with the Tour, the Italy-based Cycling Wear manufacturer is aligning with a challenge that looks to raise £1,000,000 for life-saving research into blood cancer.
Santini is a brand with enormous cycling heritage. The instantly recognizable SMS logo has been seen on the shoulders of champions over the decades and recently can be seen in the Pro Tour peloton on high profile teams such as Trek Segafredo. Santini are cycling apparel partners to all ASO events including Tour de France and Vuelta. They are also suppliers of the official UCI kit as worn by World Champions in every discipline of the sport. Supplying Slovakian National team kit as well as a long association with the Australian National team.
The Tour 21, which will take place from Friday 24th June – Sunday 17th July 2022, will see a team of 25 amateur cyclists led by former footballer, blood cancer survivor and Cure Leukaemia Patron Geoff Thomas taking on all 21 stages of the Tour de France with the aim of raising £1,000,000 for Cure Leukaemia.
Thomas, 56, who represented England, Crystal Palace, Wolves and Nottingham Forest during his 20-year career, was initially given just three months to live in 2003 when he was diagnosed with chronic myeloid leukaemia in 2003. Thanks to treatment from Cure Leukaemia's Co-Founder Professor Charlie Craddock CBE and a stem cell transplant from his sister Kay, Geoff went into remission in 2004 and turned his mind to supporting the doctors and nurses that helped save his life.
During his treatment, Geoff was inspired by the survival stories of others and decided to cycle the full Tour de France ahead of the professionals in 2005 to raise funds which led to him being awarded the Helen Rollason Award at that year's BBC Sports Personality of the Year. Geoff then went on to complete the Tour again in 2007 and then in 2015 he returned to Cure Leukaemia to take on the gruelling 21 stages once more.
In 2017, Geoff cycled the Tour de France for a 4th time as well as the Giro D'Italia and La Vuelta to help Cure Leukaemia raise an additional £1m towards the expansion of one of Europe's biggest Haematology Centres in Birmingham.
In 2022, 17 years after he first took on the Tour, Geoff is due to ride the Tour for the final time alongside 24 other amateur cyclists with the aim of raising £1m for Cure Leukaemia to fund the national Trials Acceleration Programme (TAP) which the charity began funding in January 2020. Consisting of 12 blood cancer centres across the UK, TAP enables patients from a catchment area of 20 million to access potentially life-saving treatments for all forms of blood cancer through clinical trials and Geoff and his team's efforts would have funded this network for 12 months.
As a result of the COVID-19 crisis, the 2020 event was cancelled leaving Cure Leukaemia with a £1,000,000 shortfall. The team was committed to completing their challenge in 2021 however, and through their official partnership with The Tour de France, Geoff and the team incredibly surpassed their £1,000,000 target for Cure Leukaemia.
The group met for the first-time last weekend at St George's Park, Staffordshire, where they were put through their paces by Game Changer Performance, in a series of fitness tests.
Monica Santini – CEO, Santini Cycling Wear said:
"We are delighted to be partners of "The Tour 21" and to join forces with Cure Leukaemia. The 25 amateur cyclists will wear a special Santini kit dedicated to 'The Tour 21'. We hope this partnership will help to increase the fundraising and accelerate Leukaemia research."
Jon Sangan – UK Custom Sales Director, Santini said:

"Santini has long admired Cure Leukaemia's tireless charity work to bring pioneering drug and transplant treatments to blood cancer patients in the UK. With the latest announcement of Santini and Cure Leukaemia becoming partners to The Tour de France, it was only natural that we join forces to create a very special Tour21 event and London to Paris experience for the charity's supporters. We look forward to supporting the charity with not only the finest cycling apparel, but also our desire to help the cause of Leukaemia research."
Laurent Lachaux – Commercial Director, Amaury Sport Organisation said:
"We are very proud to build bridges between Cure Leukaemia and Santini, creating synergies for both of our partners. This partnership will strengthen the link that unites the Tour de France with Tour 21 and Santini while helping to create more impactful activities that are in line with the Tour de France long lasting charity action plan. A.S.O. is committed to help raising awareness of Cure Leukaemia and we hope that joining forces with a recognized international brand like Santini will help the Tour 21 to increase fundraising and accelerate Leukaemia research."
Cure Leukaemia Chief Executive James McLaughlin said:
"We are delighted to welcome Santini into the Cure Leukaemia family. They have a storied history in the sport as one of the most prestigious cycling brands in the world. In securing this partnership, we hope that it not only raises awareness of Cure Leukaemia and the Tour 21 event at a global level but also provides us with the opportunity to secure increased fundraising potential and expand our range of cycling events and opportunities going forward.
"Led by Geoff, cycling has played such a key role in the growth of Cure Leukaemia since 2015 and we are immensely proud to now be officially associated with Santini."
"Each of the twenty five cyclists will be putting themselves through pain to raise vital funds for Cure Leukaemia so it is only right that we kit the team out in the best apparel possible, and Santini were only too happy to support!"