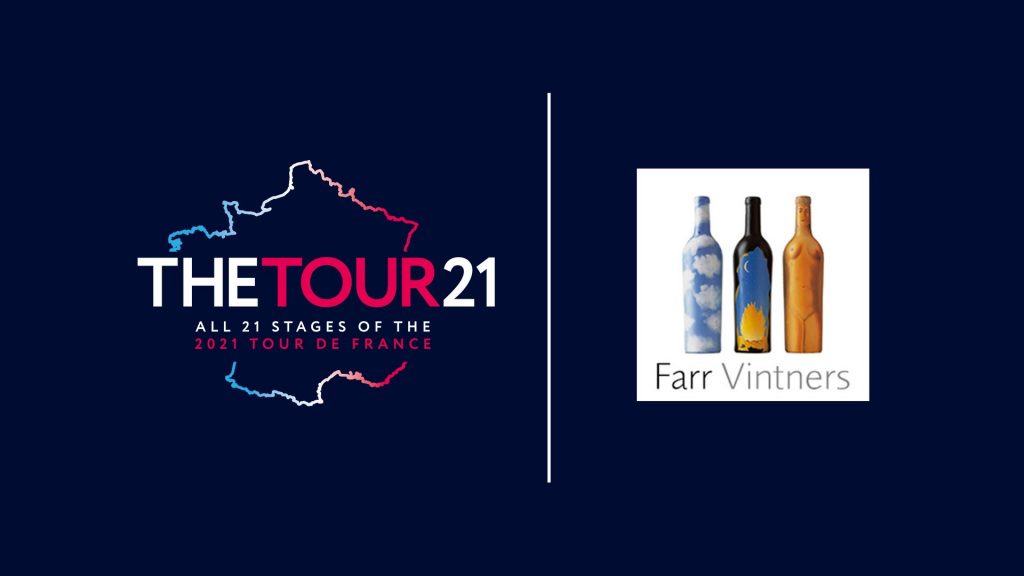 We are pleased to announce that Britain's leading fine wine merchant Farr Vintners will once again be the headline sponsor of "The Tour 21", as Geoff Thomas and twenty-four amateur cyclists look to tackle all 21 stages of the Tour de France just one week before the professionals.
The Tour 21, which will take place from Friday 24th June – Sunday 17th July 2022, will see Geoff, a Patron of blood cancer charity Cure Leukaemia, and his team attempting to raising £1,000,000 for the charity that helped save the former England international's life.
Cure Leukaemia was named as the first ever Official Charity Partner of the Tour de France in the UK in 2020 as part of a three-year agreement and will be the only charity with an official partnership with the Tour in the UK.
The ground-breaking partnership is the legacy of Geoff Thomas' phenomenal cycling achievements since his diagnosis with chronic myeloid leukaemia in 2003, just months after finishing his professional football career.
Thomas, 56, who represented England, Crystal Palace, Wolves and Nottingham Forest during his 20-year career, was initially given just three months to live in 2003 when he was diagnosed with chronic myeloid leukaemia in 2003. Thanks to treatment from Cure Leukaemia's Co-Founder Professor Charlie Craddock CBE and a stem cell transplant from his sister Kay, Geoff went into remission in 2004 and turned his mind to supporting the doctors and nurses that helped save his life.
All funds raised from this event will be invested directly into the national Trials Acceleration Programme (TAP) network which Cure Leukaemia will begin funding from January 2020. The nationwide expansion of Cure Leukaemia will see the charity invest £3m from 2020-22 in order to fund specialist research nurses and clinical roles in 12 blood cancer centres across the United Kingdom allowing them to open and run clinical trials for pioneering treatments for the disease. Patients from an increased catchment area of over 20 million people will have access, as a result, to potentially life-saving treatments not currently available through standard care.
The announcement comes hot on the heels of the charity recently announcing Santini as the Official Kit Supplier for the charity, which will see all cyclists kitted out in the latest high-tech cycling wear for the gruelling challenge.
It is not the first time that Farr Vintners have provided headline sponsorship for one of Geoff's challenges, after sponsoring the Geoff Thomas 3 Tours Challenge in 2017 and the previous edition of The Tour.
Stephen Browett, Chairman, Farr Vintners said: "Farr Vintners is delighted to sponsor the tour in 2022 so that Geoff and his riders can focus on raising vital funds for Cure Leukaemia. Ever since his days as Captain of Crystal Palace FC, Geoff has been a hero of mine and the work has done for this great charity is truly inspirational.
Geoff Thomas said: "We are delighted that Farr Vintners have once again agreed to headline sponsor next year's Tour 21. Having the headline sponsorship of such a well-known and reputable company such as Farr Vintners not only elevates our event to hopefully attract further sponsors, but it also makes a huge difference to our fundraising total. Steve and his team have shown unwavering support in my challenges over the years, and I cannot thank them enough!"
If you would like to join Farr Vintners and Santini as an official sponsor of The Tour 21, please click here. For further information about remaining sponsorship packages available for The Tour 21, please contact Alex Smith – Head of Sponsorship on alex@cureleukaemia.co.uk.