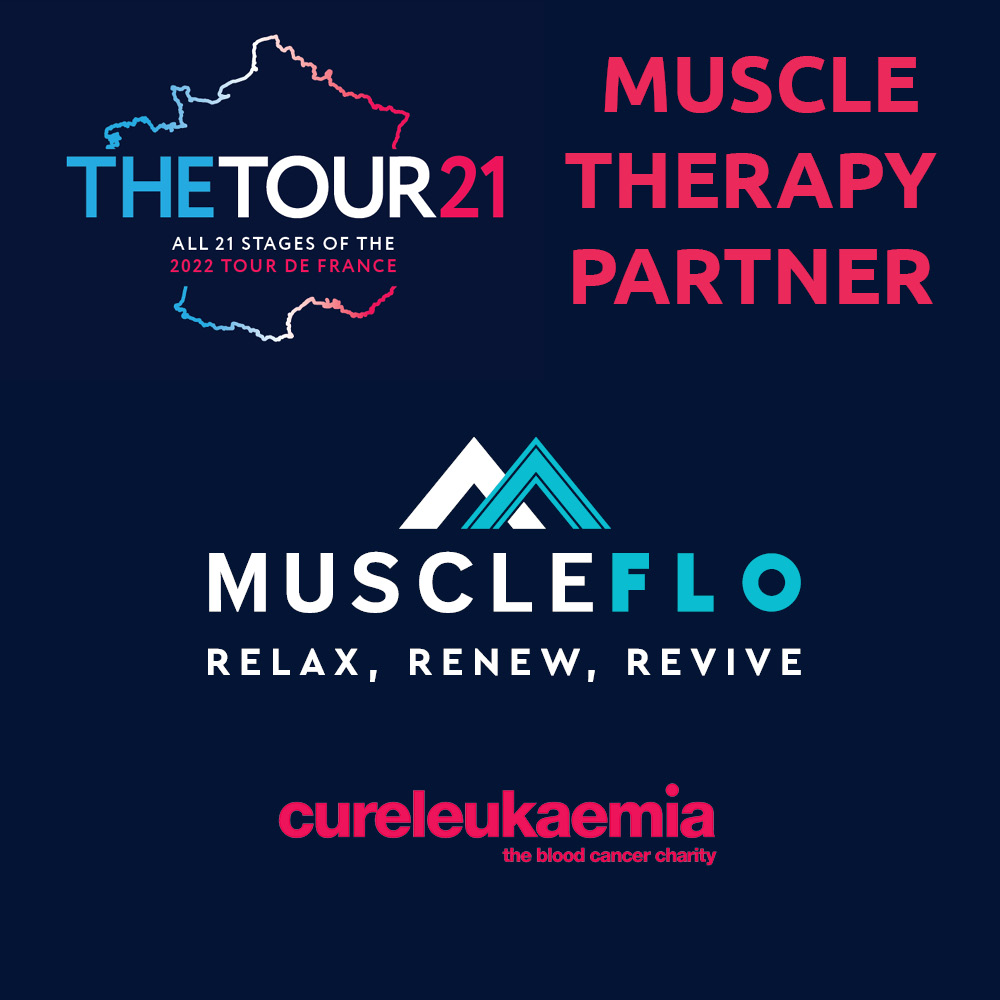 Cure Leukaemia is delighted to welcome MuscleFlo as both the Official Muscle Therapy and Recovery Partner of the charity and Official Muscle Therapy Partner of The Tour 21. MuscleFlo massage guns will be accessible to those supporting Cure Leukaemia by participating in events such as the Tour 21 and London 2 Paris bike rides, the Copa del Cure Leukaemia football tournament and those running at events including the Birmingham Half and London Marathons.
The advantages of using MuscleFlo products include pain relief within sore and stiff muscles, and the activation of both the nervous and immune systems. Such benefits will enhance the experience of Cure Leukaemia supporters participating in sporting activities to raise money for the charity to fund pioneering trials to end blood cancer within a generation.
The MuscleFlo logo will appear on the rider kits for both the Tour 21 and London 2 Paris kits in addition to being the sleeve sponsor across all the Copa del Cure Leukaemia shirts. Cure Leukaemia supporters can also look forward to seeing exclusive discounts and offers in the coming months via Cure Leukaemia social media communications and newsletters.
Cure Leukaemia Head of Sponsorship, Alex Smith said, "I am really excited to be able to announce Oren and his team at MuscleFlo as a new partner of the charity and in doing so, continue our aim to offer an elite experience to those amazing people willing to put their bodies through rigorous training and exertion to support the charity.  MuscleFlo is a fast-developing business and through the partnership we aim to support and enhance their continued growth by aligning the brand with our annual event programme including The Tour 21, London 2 Paris and Copa del Cure Leukaemia."
MuscleFlo Founder Oren Anker added, "I am delighted that MuscleFlo will be able to help Cure Leukaemia supporters participating in events to raise money to find a cure for blood cancer.  MuscleFlo products relieve and recuperate the body and mind which help you live your life to the maximum."
To find out more about MuscleFlo products and the benefits of using their massage guns for both sporting activity and to support general health and wellbeing, visit www.muscleflo.com.
To discuss how businesses can engage with Cure Leukaemia events to add value and raise profile in a variety of ways, contact Alex Smith on alex@cureleukaemia.co.uk.