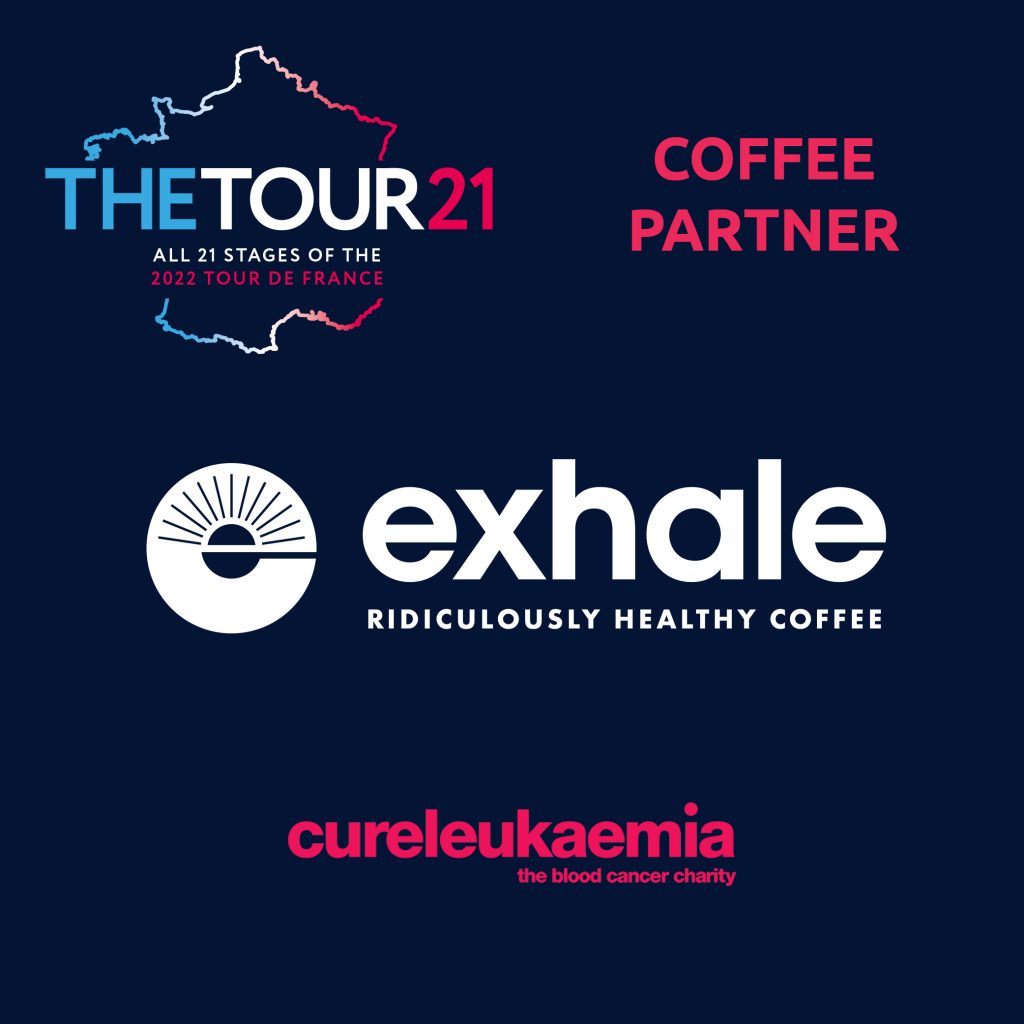 Cure Leukaemia is delighted to welcome Exhale, producers of organic healthy coffee, as the Official Coffee Partner for The Tour 21.  Exhale coffee will help fuel the amateur riders as they complete the entire Tour de France route, all 3,328 kilometres, a week ahead of the professional riders and teams to raise in excess of £1.1million to fund pioneering trials to eradicate blood cancer within a generation.  
Exhale has been developed with the aim of proving the health benefits of coffee should be viewed in the same league as fruits and vegetables and Exhale are unique in how they source and roast their coffee. They lock in more of the healthy elements producing coffee that has the same antioxidant power as 12 punnets of blueberries, 55 oranges or 1.2kg of kale in just one cup!
Cure Leukaemia Head of Sponsorship, Alex Smith had the following to say about the new partnership, "I am thrilled to welcome Exhale into The Tour 21 family of partners for this year. Understanding the positive affect that caffeine can have on performance means the support that Exhale are offering our amazing team of riders will help hugely on their ability to complete 100km+ stage after 100km+ stage over 23 days."
Exhale Founder Kirsty Miller added, "Fuelling these absolute legends through such a tough adventure is seriously exciting for us, and doing it for such a worthy cause makes it even more special. I think they are going to need all the coffee they can get!"
To find out more about Exhale coffee, the ethos of the business and take advantage of their 40% off new subscription offer, visit www.exhalecoffee.com.
The Tour 21 is Cure Leukaemia's biggest annual fundraising event and is delivered in official partnership with the Tour de France organisers A.S.O. To see more about the event, visit www.thetour21.co.uk.
Partnership opportunities are still available to align your business with the event and the charity's work in curing leukaemia. To discuss further contact Head of Sponsorship, Alex Smith at alex@cureleukaemia.co.uk.
The opportunity to be part of the rider team for the 2023 event will soon be launched but to express your interest in participating, please contact Cure Leukaemia Head of Sport, Joe White at joe@cureleukaemia.co.uk.